UNA-FLEX Styles 145,155,156,157, and 185
These U-Style rubber expansion joints are constructed of a natural rubber tube, several heavy plies of rubber or neoprene-impregnated fabric and a neoprene cover to protect the carcass. The UNA-FLEX "SUPREME" U-Style rubber expansion joints form a flexible connection between equipment inlet and outlet flanges. These expansion joints are available in the following configurations: Oval,( Style 155 & 157)Round, (Styles 156 & 185) and Rectangular. (Style 145)
Oval (Style 155 & 157)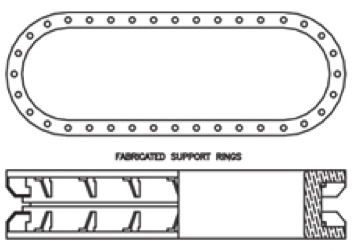 With external flange available in Style 155 for vacuum only and Style 157 for pressure and vacuum.
Used in installations where external bolting is desired.
Style 155 withstands 30 inches of vacuum with standard flat steel retaining rings Style157 is designed for both 30 inches of vacuum and 25 psi gauge internal pressure and is designed with special steel fabricated support rings.
Round (Style 156 & 185)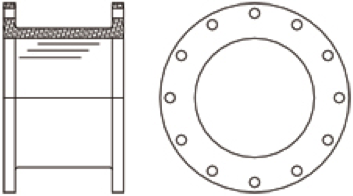 Lightweight rubber expansion joints available in Style 156, "U type, no arch, steel reinforced for vacuum and pressure.
Style 156 body is of duck and rubber without metal reinforcing.
Style 185 is constructed with steel reinforcement. These units can also be supplied with offset features.
Rectangular (Style 145)
with internal flange (no arch) for vacuum and pressure.
They allow ample axial and lateral movement capable of withstanding 30 inches of vacuum, or 25 PSI gauge internal pressure.
Retaining flanges are provided for support.