Unalon 9500
Heavy Duty PTFE / Metallic Expansion Joints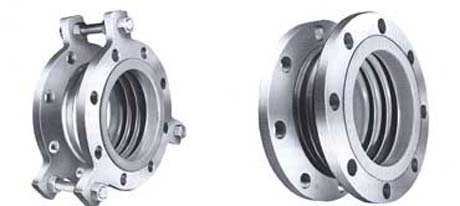 The UNALON 9500 series is an expansion joint that combines the properties of metal and PTFE into the most advanced, versatile expansion joint on the market today.

SAFETY
Unlike ordinary solid PTFE of Elastomeric type expansion joints, should up-set conditions exceeding 500F occur - Unalon series 9500 will maintain it's pressure carrying
capacity up to 1200F long enough for system shut-down and replacement.
Construction Details
Unalon "T" (9500 series)
PTFE or FEP tube formed into a stainless steel, Inconel™, Monel™ or Hastelloy™ corrugated tube.
Flanges:
Floating type (150#. 300#, or metric.)
Available in carbon steel, stainless steel or
PTFE coated to meet your specific requirements.
Options:
Gimbal-Hinged-Dual-Externally Pressurized-
Pressure balanced.
NOTE: FOR ENVIRONMENTALLY
CORROSIVE APPLICATIONS, LAMINATED
ELASTOMERIC OR TEFLON COVERS AVAILABLE