U-Lok 750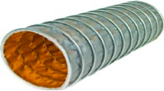 Applications for the U-Lok 750 include:
Hot air supply and removal
Automobile exhaust hose reel
Hot fume control
Gas exhaust control
Construction:
Material: Fiberglass/Silicone outer, inner polyimide film
Construction: Mechanical bond, corrosion resistant helix
Diameters: 2" to 24" I.D.
Bend radius: = 1.5"x I.D.
Weight: 6" I.D. = 1.1 lbs/ft.
Length: 25 ft.
Compression ratio: 5:1.
Temperature range: -65°F to +750°F intermittent
Color: Metallic grey outer, golden inner
*Also available with stainless steel helix
Due to the complexity of this product, please call 866-397-4673 for additional assistance.